Machine Learning with Python
In this subject, we focus on the main branches of machine learning. In supervised learning, we explore linear regression and classification, focusing on decision trees for the latter. In unsupervised learning, we learn about k-means clustering.
Courses
Machine Learning in Python
In these courses, we explore how to use Python to build linear regression, decision trees, and K-means clustering algorithms.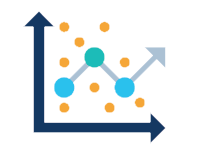 1. Regression Analysis in Python
Create your first machine learning algorithm with Python. This course will teach you how to predict future numeric values based on existing data. You'll achieve this by applying linear regression analysis to a business scenario.
2. Decision Trees in Python
Learn how to build classification algorithms that can predict outcomes that can only have a few possible variations. There are many classification algorithms, but we'll focus on Decision Trees which are both easy to understand and to visualize.
3. K-Means Clustering in Python
Learn how to deploy the k-means clustering algorithm. We'll use these to segment customers into separate clusters which will allow the associated business to tailor its responses to these customers.